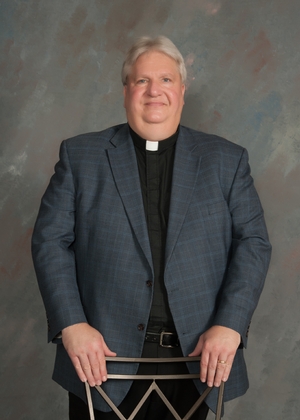 Our Pastor
Pastor Tom Eckstein was born in Thief River Falls, Minnesota, where he lived until he graduated from high school in 1981. He attended Concordia College in St. Paul, Minnesota, where he graduated in 1986 with a BA in Greek and Literature. He worked for 1 1/2 years with the mentally and physically challenged. He enrolled in Concordia Seminary, St. Louis, in the Fall of 1987 and graduated with an MDiv in May of 1991. He was Ordained into the Pastoral Office on July 14th of 1991.
Pastor Eckstein served at Redeemer and Zion Lutheran Churches in Langdon and Munich, North Dakota, until December of 1994, when he accepted a Call to Shepherd of the Valley Lutheran Church in Bismarck, North Dakota, where he served until March of 1998. In March of 1998 he and his family moved to the St. Louis Area where he served as Pastor of Beautiful Savior Lutheran Church in Bridgeton, Missouri, until June of 2005. Pastor Eckstein has been serving Concordia Lutheran in Jamestown since June of 2005 and looks forward to many wonderful years of Ministry in this area.
On June 4th of 1988 Pastor Eckstein married his wonderful wife, Andrea. They have 3 children -- Birgitta, Joshua and Christianna. They also have a new granddaughter - Hallie Joy Eckstein, born on November 5th of 2018 to their son Joshua and his wife, Kara.
Pastor Eckstein enjoys playing guitar and singing, spending time with his family, reading and watching classic Star Trek episodes.